The beta hydroxy acid peel, ß-LIFTx® (BETA-LIFTx®) is a dermatologic procedure for revitalizing your skin and rejuvenating your appearance. In just five minutes, this beta hydroxy acid leaves skin with a healthy, youthful, smooth and tight appearance. Fine lines and wrinkles are less apparent and the skin tone is more even. This procedure is also helpful for acne and brown spots.
Beta Hydroxy Acid Peel
Smart Peel – The innovative formulation disperses salicylic acid as microcrystals. These microcrystals are able to reach into and affect even the tiniest lines and imperfections. ß-LIFTx® targets precisely the areas that need improvement.
Unlike traditional chemical peels, the beta hydroxy acid peel, ß-LIFTx® automatically stops after it has delivered all of its renewing stimulus. This makes ß-LIFTx® exceptionally safe. ß-LIFTx® is also highly effective. Research has shown that just one ß-LIFTx® procedure will do more for your skin than numerous traditional, superficial chemical peels. Nothing else works to improve your skin so well and in so many ways in just minutes
Better than superficial chemical peels:
The ß-LIFTx® procedure removes dead; dull skin cells from the surface of your face and exposes the young, healthy ones. Because ß-LIFTx® penetrates the pores, the effect on oily or acne-prone skin and superficial scars is remarkable.
ß-LIFTx® Provides visible results:
Fine lines and wrinkles become less apparent
Skin tone appears to even out
Enlarged pores appear smaller
Superficial scars appear reduced
Application takes just five minutes
Just 5-minutes to youthful, vibrant skin!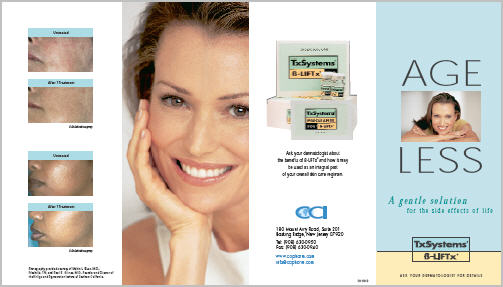 Here's what happens
Dr. David will discuss the procedure and determine if the beta hydroxy acid peel, ß-LIFTx® is suitable for you.
After cleansing your face, the ß-LIFTx® formula is applied to your face. Within a few minutes, a filmy mask will appear. Some slight discomfort is predictable during the first two to three minutes.
The mask is washed off and you will apply THERAPLEX® HYDROLOTION® moisturizer to hydrate and protect the skin.
Your skin may appear slightly rosy for a day or two and may begin to peel to some degree. However, the THERAPLEX® HYDROLOTION® moisturizer provided will minimize the appearance of flaking.
You will be given directions for proper post-peel cleansing and skin care.
Follow-up care:
Of course you need to continue caring for your skin by using sunscreen, cleansing and moisturize daily, and avoid harsh, irritating products such a scrubs and masks. Dr. David will provide additional information regarding the frequency of having the ß-LIFTx® procedure and will give you information on products that will expand the improvements.