About Dave E. David, M.D.
Dr. Dave David, Two Time Recipient of The Patients' Choice Award, formerly in practice in Orange County, California, is the Medical Director of Medical Face & Body Aesthetics. Dr. Dave David has been a physician and surgeon for over 35 years, and has cared for thousands of patients. He has appeared in a Time Magazine promotional showcase, entitled "Leading Aesthetic Surgeons" and appeared in the "Top Doctors" edition of Boston Magazine.
Nationally Recognized Media and Broadcasting Physician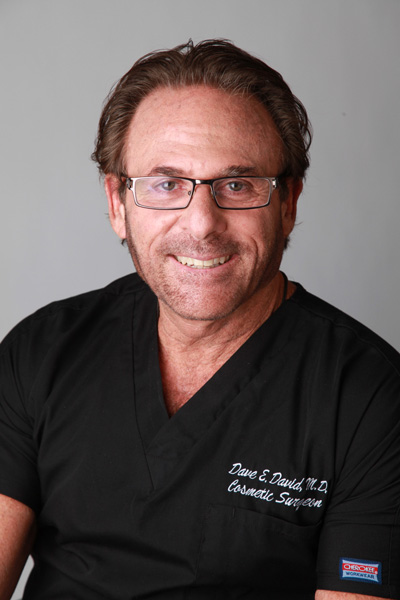 Dr. Dave David has appeared ongoingly on national television for many years, and appeared regularly as the medical news analyst on NECN for a year, as well as having appeared on CNN, nationally on The Fox News Channel, and as a guest on dozens of talk shows, including appearances with Farrah Fawcett, Joan Rivers, Marilu Henner and members of the Kardashian family. As a nutritional and weight loss expert, his weight loss system was featured on the cover of Women's World magazine, and he has treated members of the US Olympic team. As a Nationally Recognized Media and Broadcasting Physician In addition to having held the position of Medical Director for United HealthCare, Dr. David has appeared on dozens of national talk shows including The Jenny Jones Show, Leeza, The Gayle King Show, NBC's "Alive and Wellness", The Food Network, and many more, including regular appearances on ABC/Family Channel's "Living the Life." In addition to producing and hosting his own show "There's a Doctor In the House" and a local radio show, his informational video, Makiing Womb For Baby (formerly available through Blockbusters) and his audio program "Secrets To a Slimmer You" both received high acclaim.
Click here to see a video of some of Dr. David's Credentials, awards, Experience and Humanitarian Relief
Dr. Dave David (who was the national media spokesperson for La-Z-Boy recliners) has appeared on television across the country on hundreds of occasions, and is currently interviewed for national magazine and newspaper articles on a weekly basis and was also featured in The Huffington Post.
Dr. Dave David  studied one on one in Paris and Rome with the pioneers in the field of liposuction surgery in the mid 1980's. Additionally. he studied with the renowned Newport Beach cosmetic surgeon Dr. Michael Elam, who has to his credit the surgical makeovers of many of the most well known Hollywood celebrities. Around this time, Dr.  Dave David became certified in liposuction and joined the American Academy of Cosmetic Surgery and The American Liposuction Surgery Society. Preferring state-of-the-art alternatives, many years later, Dr. David  turned to easy, safe, inexpensive, and very effective alternatives to traditional procedures like the old conventional liposuction. He currently is certified by the Aesthetic Enhancement Institute in Botox injection and injection of facial fillers, including Restylane, Juvederm and Radiesse. He specializes in the exciting VASER lipo and has more experience than any surgeon in New England.
Dedication to Education
Dr. Dave David feels that it's important to be involved with education, and as such held the position of Assistant Clinical Professor at The University of California, Irvine Medical School, as well as a faculty position at Harvard University and taught for many years both Human Anatomy and Human Physiology at The University of Rhode Island.
Special Interest and Expertise in Health and Fitness
Dr. Dave David  for decades has possessed a keen interest in health, fitness and weight management, as he is a weight lifter, long distance bicyclist, former marathon runner and participant in many sports. After having medalists from the U.S. Olympic Team as his patients and acting as a medical consultant to personal fitness trainers in southern California, he founded Dr. David 's Weight Loss Centers, Ltd., and co-created the Slim Secret System and The Slim Fusion System, as seen on national television. His weight loss system was featured on the front cover of Women's World Magazine, because of his success, without using drugs or medications to achieve weight loss.
Renowned Medical Expert
Because of this interest, Dr. Dave David  is recognized around the U.S. as an expert in his field, having acted as a Medical Legal Consultant to attorneys from coast to coast, being called upon for his opinions and testimony in courts around the country. His vast medical experience led him to the positions of Medical Director for Natural Health Pharmaceuticals, Comprehensive Medical Director for Guthy-Renker Nutritionals, Medical Advisory Board Member for 1-800 Healthy.com and Medical Director of the Adirondack Country Club. Although Dr. Dave David's main interest and passion over the years has been the care of his patients, he also has published numerous articles in medical journals, which included his writings in The Journal of The American Medical Association on 6 different occasions.
Humanitarian Relief
Dr. Dave David  believes strongly in humanitarian relief and immediately following the 2010 earthquake in Haiti, led a volunteer medical and surgical team in Port-au-Prince.  Additionally, shortly following the devastating tsunami in South Asia, Dr. David led a similar volunteer medical and surgical team into Sri Lanka, his group treated nearly 11,000 patients. For more videos and photos of Dr. David's medical and surgical relief, please go to his FLICKR account.
View articles on Dr. David's humanitarian relief efforts
Additional Information about Dave E. David, M.D.
His memberships in numerous professional organizations, the awards and honors he has received, as well as the information on his medical training and education can be found in his curriculum vitae. Dr. Dave David  now takes all of this education, training and experience, and as the Founder of Medical Face & Body Aesthetics, offers both men and women alike, an opportunity to look great and to feel better about themselves!!!
For more videos and television appearances please visit drdavedavid.com.
Dave E. David, M.D. 508.505.6474
Download Dave E. David M.D.'s Resume
Link to some of Dr. David's credentials, certifications & awards